---
Where can I learn Polish language in Seattle?
The information below has been updated for the 2016/2017 school year.
Polish for Children
Children can learn Polish at two Polish elementary-level schools, the Polish School in Seattle and the Polish School in Bellevue. There is also a Polish School at the Polish Parish in Tacoma. For religious education of children please see below. Finally, there are Libratus Schools on the internet that serve children who are Polish citizens.
Polish at the preschool level is down to families and informal support groups. One great possibility used to be meetings of Polish Story Time Poczytajki at the Bellevue Library (on some Fridays) or at the Polish Cultural Center (on some Saturdays). This happens from time to time but the last one was over a year ago - subscribe to Polish News email bulletin for current news..
The Fr. Jan Twardowski Polish School in Bellevue is a very popular school for children, both for young immigrants and for second+ generation. The enrolment is over 80 kids. This school is more convenient for people who live on the Eastside, but the School also enrolls students from all over Puget Sound. Currently the School uses facilities at the East Shore Unitarian Church Education Building in Bellevue. The curriculum covers Polish language and literature as well as history and geography of Poland for children from grades 1 to 8, although students are grouped together based on language skills. There are no classes for adults. For more information visit the School website (in Polish). The School is open on Wednesdays from 6 pm. Please contact Principal Anna Cholewinska (425) 765-4935, or [email protected].
The Juliusz Slowacki Polish School in Seattle is located at the Polish Cultural Center / Polish Home and has traditions going back decades. This is a more convenient choice for elementary school children from the Seattle area. This school is also offering classes for adults. Current enrollment is about 30 kids and about 30 adults. The curriculum for children is similar to the Polish School in Bellevue. Courses for adults are also available and well attended - beginners and intermediate groups are available. The School website is really a page at the Polish Home Assn. website. The School is open on Monday nights from 6 pm to 8:45 pm. Please contact Principal Maria Grabowska 425-271-3669, for adult courses please contact Marian Strutynski. School website in Polish is here.
The Libratus Schools online were introduced in the 2009/2010 school year as an education program for children of Polish citizens abroad. For a couple of years their program was an ideal solution for some local families who made me aware of this educational opportunity for Polish children. The program was recognized by the Polish Ministry of Education and supported by the Polish government (i.e. free of charge as the regular Polish education is), and the exams were conducted on-line. However all this changed significantly in spring 2012 and now this does not seem to be a practical proposition for families from the Seattle area. Details below.
However, this is not the case any more, so beware! As of 2013, Libratus advertises their on-line education programs as free, accredited with the Polish Ministry of Education as before and offering on-line exams. This is simply a misleading advertising. Since spring 2012, a child has to travel to Poland or to London in order to receive an officially recognized graduation certificate and to avoid paying for Libratus services. The dates for these obligatory exams (in April or early June) typically collide with the local American school calendar and of course it is hard to fly with children for a few days just for the exams. This is more of a proposal for Poles living in Europe.
Libratus also offers on-line courses with on-line exams. However, in that case there is a significant tuition to pay for each child and the related graduation certificate is not recognized by the Ministry of Education as an official school certificate. Hence, this is just a Libratus course certificate but the program still may appeal to you. Be sure to read their program descriptions carefully.
If you want to enroll into the Libratus system, the enrolment deadline for fall is typically in mid- or early May.
The Polish government school programs for Polish citizens abroad.
These have evolved for the last few years and it's hard to say if for the better. It seems that before 2010 there was an attempt to provide a true on-line education for primary and secondary schools equivalents; however, that goal now seems to have been abandoned in favor of programs requiring enrolling a child in a regular accredited school abroad or requiring the child to take a final yearly exams in Poland or in other designated places. (Which technically is not much different from the old "ekstern" system). From what I could find out, I am not aware of an on-line program that could provide an official graduation certificate without either attending an accredited regular school abroad or attending "ekstern"-type exams in far away places (see Libratus information above for comparison).
It seems that the available programs are always anchored at an accredited Polish school abroad. In the United States there is only a handful of these schools (such as the school at the Polish Embassy in Washington DC, or two or three schools in Chicago, including one at the Consulate). Please check their website for details if you are interested, but last I checked I don't think it is possible to live in Seattle and attend any of these on-line. Please let me know if you discover something worth sharing with other local parents.
References:
I could not find anything on this at the Ministry of Education site. The principal sites for the topic seem to be these: Osrodek Polskiej Edukacji za Granicą, Otwarta Szkola (more of a consultation and support system, some pages have cobwebs).
Polish for Adults
Courses for adults are available at the Polish School in Seattle (see description above). Polish is also taught at the Dept. of Slavic Languages and Literatures of the University of Washington in Seattle. Finally, there are several tutors who can be contacted for private lessons. Please see the Business Directory and the Ads & Job section for current references.
Lake Washington Institute of Technology in Kirkland has courses for beginners as of spring 2015. For more information, please see Polish for Beginners. Bellevue College does not offer Polish courses anymore.
The Department of Slavic Languages and Literatures of the University of Washington requires enrollment at the UW. This requires a tuition about $1,200 per quarter, although when you are 60+ years old, the fee drops down to $5 per course credit taken. The Department is located on the main UW campus in Seattle. Class availability changes from year to year. Please contact Prof. Katarzyna Dziwirek, the current Chair of the Slavic Department and a native Polish speaker who lectures Polish courses, or Susan Westen, who is a secretary at the Department, for more info. Since 2006, each year the University typically has a native Polish Fulbright scholar as well who teaches classes on Polish culture, politics, language and the like. This is supported by the UW Polish Studies Endowment Committee - check their website for current info on the course availability and about events related to Polish culture organized by the Committee. Finally, Polish culture, history etc. are frequent subject of courses at other departments. Please contact UW PSEC for more info or check our Jobs and Ad page for info.
As far as I can tell, the Seattle Languages International discontinued Polish courses. Similarly, Bellevue College and Lake Washington Institute of Technology used to but don't offer Polish courses anymore. You can check to be sure.
Individual Polish lessons
Several local native Polish speakers offer individual lessons in Polish. Please check the Business Directory
---
How do I immerse my children in Polish?
Besides the Polish Schools as described above, there is also a Polish Scout Troop Kaszuby; please contact Anna Borodenko, or check their 2010 season announcement. Another possibility is a children dance group Mlodzi Polanie or the Children Theater Biedronka, both active at the Polish Cultural Center / Polish Home; contact Barbara Strutynski. Also, see below for religious education for children. For preschoolers, check out Polish Story Time Poczytajki.
---
How can I get / buy Polish books & movies?
Besides the Polish Schools as described above, there is also a Polish Scout Troop Kaszuby; please contact Anna Borodenko, or check their 2010 season announcement. Another possibility is a children dance group Mlodzi Polanie or the Children Theater Biedronka, both active at the Polish Cultural Center / Polish Home; contact Barbara Strutynski. Also, see below for religious education for children. For preschoolers, check out Polish Story Time Poczytajki.
---
I look for a Polish church and religious education for children in Polish
Both Seattle and Tacoma have Polish Catholic parishes that offer masses as well as religious education for children in Polish. For St. Margaretís Church in Seattle please contact Fr. Stanislaw Michalek at (206) 282-1804. For SS. Peter and Paul Church in Tacoma, please contact Fr. Eugeniusz Bolda, (253) 272-5232.
---
How can I setup & use Polish characters such as ćęś on my American computer?
Polish character support
Setting up Polish characters on any Windows computer is quite simple. Basically 1) you tell the system to use a Polish keyboard 2) make sure that it is on when you want to use it 3) use a simple convention to indicate a character with Polish diacritical.
Please see a step by step guide on how to setup Polich characters for details.
Polish speller
Please note that a typical English-based text editor available here does not have support for a Polish speller. To use a Polish speller you need to install an additional program. For example, for Microsoft Office 2010, you need to buy & install a language pack for Polish, which is separate from the Office 2010 suite. Once it's installed, the speller works with every program from the suite. To purchase, please connect to the Microsoft Office language options site from the machine you want to install on and choose language polski from the dropdown. (For Microsoft Office 2007 this is called Microsoft Office Proofing Tools Kit 2007 that is part of Microsoft Office Multi-Language Pack 2007).
I have been running Polish spellers for years on computers running Microsoft Windows systems and this works quite well. One nice feature is that on a typical text, the speller automatically guesses correctly whether the language of the text is English or Polish. Also, the speller in the 2010 edition is significantly better than the 2007 version.
---
I donít speak Polish but I would like to get involved in Polish community, be in contact with other people interested in Polish culture...
Most events organized by the Polish organizations in Seattle are in English or bilingual. Please check our website calendar pages or subscribe to our email bulletin.
Visit the Polish Home - also known as the Polish Hall - that serves as the Polish Cultural Center in Seattle. You are always welcome at the Polish Home whether you speak Polish or not and whether you are Polish, of Polish descent or not. Both the organization (Polish Home Assn) and the facility is open to general public. Polish Home restaurant is open on Friday nights and you can eat a Polish dinner there from 6:30 till 10:30; it is also open on Sundays from 1 to 4 pm.
To get involved, you might want to join Seattle-Gdynia Sister City Association (SGSCA meets at the Polish Home on the second Friday every month). This is an English-language friends-of-Poland type of organization; Gdynia is a big city and a port next to Gdansk in Poland. SGSCA organizes Polish Film Festivals in Seattle. Other organizations and venues worth exploring are listed here; the most notable for English speakers are Polish Home Foundation and the UW Polish Studies Endowment Committee.
---
For some special types of food, such as bialy ser / white cheese, paczki / ponchki, carp fish, Christmas wafers (opłatki), please see Specialty Food
General store info starts right below.
Seattle:
Restaurants:
The Polish Cultural Center Dom Polski has a dining room and a bar open every Friday night from 6:30 pm, Sundays from 1 to 4 pm and during most scheduled events. Closed in summer and on some holidays. Dinners by chef Barbara Patrick. The bar is well stocked with Polish beers & vodkas.

See a bunch of positive testimonials on Yelp here, average 4.5 stars

Sebi's Bistro, 3242 Eastlake Ave E, Seattle, WA 98102. tel. (206) 420-2199. Polish dishes on the menu. Owners Daniel & Kamila Kanczugowski.

Insomniax Coffee, 102 15th Ave E, Seattle, is a cafe only few blocks from the Polish Home, established in March, 2007, with a Polish owner: drop by to check it out, it's nice!
Catering:
PB Kitchen, call Barbara Patrick tel. (425) 876-3964
Stores:
Georgeís Sausage & Delicatessen, 907 Madison St., Seattle, WA 98104, 206-622-1491, owner Jadwiga Lidzbarski.
Read this very flattering article The best deli in Seattle that you've probably never heard of from The Seattle Times.
This is a great deli and all around Polish foodstuff store, including kielbasas etc. made in-house; also it sells Chrismas
wafers (opłatki).
Polish Beer:
Please see a separate note about beer below
Ponchki / Pączki - please see Specialty Food below
Also, please look here: Polish food and dining.
Eastside
Restaurants
Sages in Redmond, 425-881-5004, serves rustic Italian and European cuisine but the owner/chef is Bart Kuliczkowski, so just talk to him Ö
Stores: There is a number of Russian or East European stores that sell Polish products.
International Deli 15015 Main St. Ste 110, Bellevue, at the mall at 148th and Main, tel. 425-865-0439,

From Russia with Love, 1424 156th Ave. NE., Bellevue, at the Crossroads Mall (Top Food store plaza), tel. 425-603-0701

Arbat International Food Market, 12053 124th Ave NE, Kirkland, tel. (425) 825-5830, Vlad Mitkovetski, owner

European Deli and Market Produce, 8530 122nd Ave NE #B2, Kirkland, tel. (425) 747-1319

The Editor invites readers to supply more addresses ...
Polish Beer:
Please see a separate note about beer below
Wider Puget Sound area
Stores:
International Deli, 15015 Main St. #110, Bellevue, WA 98007 at 148th & Main

International Market & Deli, 2020 Maltby Rd. Ste 8, Bothell, tel. 425-486-9676

European food Store, at 44th Ave W and Alderwood Mall Blvd, Lynnwood

Troika Euro Deli, at 14007 Hwy 99, Lynnwood, WA 98087; tel. 425-745-4868

Euro Deli Karpaty 17901 Bothell Everett Hwy, Ste #104, Bothell, WA, tel. (425) 402-7176, an Ukrainian store

Vitmar European Food, 4033 NE Sunset Blvd, Renton, Wa 98056 / at N Union Ave. tel (425) 255-4671

Europa, Authentic German and Polish Restaurant, 29030 216th Ave SE, Black Diamond, WA 98010, tel. 360-469-4914
.. and out there if you travel ...
Polska Kuchnia Restaurant, 8620 271st St. NW, Stanwood, WA 98292, tel. 206-355-2893

Magdalena's Creperie, 1210 10th Street, Ste 103, Bellingham, WA 98225, tel. (360) 483-8569

Grandpa's Cafe, 3832 N. Interstate Ave, Portland, OR, tel (360) 936-6554
Bialy ser / white cheese
First, don't ask for "white cheese" at a regular grocery, nobody would understand what you want. At some groceries
such as Trader Joe's and at some farmer markets you can get "farmer cheese", which is close, for example Amish
farmers make it. Polish bialy ser or a good farmer cheese equivalent can be bought at George's Deli and some other
of the ethnic food stores mentioned here. Whatever you do, don't try Philadelphia cream cheese - it's not even close.
Ponchki / Pączki / Paczki
Typically on sale a week or two before Fat Tuesday at these places:
(note that Fat Tuesday is the day before Ash Wednesday, Tłusty Czwartek is one week earlier).





Polish Church or Polish Cultural Center Dom Polski
available at the Polish Church before Christmas & Easter and at the Polish Bazaars before Easter
and on the first weekend of November, see the event calendar





Try Sebi's Bistro or George's Deli
Sebi's typically runs a ponchki and pastry special event on Polish Fat Thursday and then on Fat Tuesday
Carp / karp - Christmas Eve special
You can order a carp (or catfish/sum) for Wigilia at Timís Seafood, 224 Park Place, Kirkland, tel. (425) 827-0195,
You need to call ahead of time with an order - at least a week ahead. Going for salmon or halibut is easier.
Opłatki - Christmas wafers in Seattle
You can buy them at the Fall Bazaar at the Polish Cultural Center (always on the first weekend of November) and at
the Polish Parish on Sundays in the season. Also available at George's Deli on Madison in Seattle (see above for
store info, typically open Monday to Saturday).
The best choice of Polish beer is at the Polish Cultural Center / Polish Home restaurant & bar in Seattle and at Sebi's also in Seattle. .
There are also several stores that sell Polish beer
Whole Food Market chain stores stock Zywiec and Okocim:
Redmond at Fall City Rd and East Lake Sammamish Pkwy for example
Bellevue stores
Red Apple chain stores
Kirkland at Bridle Trails
Malt & Vine, 16851 Redmond Way, Redmon WA and their web store: Okocim, Zywiec & Warka
Browar Polska, Inc
This is a distributor of European beer & wine. It features the best selection of Polish beer
around, but can serve businesses with the WA liquor license only.
For contact, please see our Business Directory
The Editor invites readers to supply more addresses ...
---
I need a Polish translator, a lawyer, a notary ...
Please look at our Business Directory page for translators, lawyers or bilingual notaries. For general comments, please see below.
First, note that services of an American notary are quite different from ones provided by a Polish notary. A notary in Poland runs an office with services somewhere between ones provided by an American notary and an estate lawyer's office; this includes preserving copies of documents handled by the notary's office. Also, Polish notaries have a monopoly on some legal services, especially related to real estate; this is not the case in the US. A notary in the US is basically a simple service confirming identity of a person signing a document; no copies are preserved by the notary. Hence, for anything more complicated you might want a lawyer.
Document translations are much more informal in the US than in Poland. In particular, a sworn translator is frequently not required. In many cases you may translate a document from Polish to English yourself if you are able to and know the appropriate terminology; typically there is a requirement that one should not translate documents about oneself - but then a competent friend may do it for you. In any case, the translator needs to identify himself/herself in a note at the end of the document and to add a statement about being competent and about translation being accurate and faithful with the original. For crucial legal documents or court appearances you should or might be required to seek help from a local court approved translator.
When preparing documents for sending to Poland everything depends on the type and purpose of the document. A simple Upowaznienie (Limited Power of Attorney) is typically accepted by Polish officials when the text is bilingual (such as in parallel columns) and the signature confirmed by your local notary. Typically, every bank, Pony Express, a Passport Photo service has a notary on staff. On the other hand, for many legal documents, such as marriage licenses, real estate contracts, court rulings etc, notary is not applicable or not enough. The crucial point in these cases is that the document itself needs confirmation Ė specifically that it is in fact a legally binding document in the US. This legalization procedure used to be performed by the Polish consulates, but the consulates do not do it anymore. Per the Hague Convention, these confirmations have been replaced by the Apostille documents issued by the Secretary of State. Finally, for Polish citizens, passport applications are not accepted by mail anymore (since August 28, 2006) by the Polish consulates due to new passport regulations in Poland and the EU; one needs to apply in person before a Polish consul.
Apostille Ė this is worth a separate paragraph. As mentioned above, an Apostille is currently the only legalization confirmation appropriate for legal documents between US and Poland. In the past, Polish consulates would provide legalization services; since August 14, 2005, both Poland and the USA recognize Apostilles as the legalization instrument according to the Hague Convention. In our state the Apostilles are issued by the office of the Secretary of State for the State of Washington in Olympia. In particular, no subsequent confirmation by the Polish Consulate in LA is needed. You can obtain an Apostille from the office of the Secretary of State by mail or in person. The office is prompt in returning mail.
---
I am of Polish origin, how can I get birth certificates etc. from Poland?
The best chance is to use the family connection back in Poland. Trace your American data to an ancestor with known date of birth and place of birth. If you have that, the family can write to the appropriate state archives in Poland asking for birth certificates for these people or even for genealogical search on them. Depending on how far in the past it is, the documents can be in the state archives at a provincial capital (appropriate voivodship) or at the central archive in Warsaw. The state archives have official state records or copies of those, as well as records or copies of records from religious institutions like parishes etc. Also the state archives in Warsaw have many records from towns and villages that were Polish before WWII and now are in Western Ukraine or Byelorussia.
The archives nowadays actually make money on this type of genealogical queries, so other than writing appropriate specs for searching, paying upfront some modest amount and waiting, the first steps in this research should be fairly straightforward.
---
How many people of Polish ancestry live in Seattle? In the Washington State?
These numbers come from the US Census Bureau site
In 2006
about 129,000 people claimed Polish ancestry in Washington
about 42,500 people claimed Polish ancestry in King County
about 15,000 people claimed Polish ancestry in City of Seattle
People of Polish Ancestry By Percentage in Washington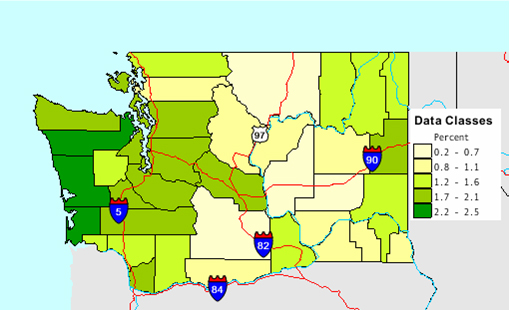 Courtesy the Piast Institute, © 2007 The Piast Institute
One unappreciated aspect about people with Polish ancestry is that they are widely dispersed throughout the state of Washington; in fact there are many small towns and rural areas settled by Polish immigrants in 19c and early 20c., now with many 4th or 5th generation Polish-Americans.
Please note that these numbers indicate the ancestry, that is old-timers. For example, according to the US Census Bureau, the number of people with Russian ancestry in the state, both in King County and in Seattle, is several times smaller than the number of people with Polish ancestry. As we know, for fresh immigrants the situation is reversed - everyday experience indicates that Russians are about 5 or 10 times more numerous than Poles. However, I could not find US Census Bureau numbers indicating the country of origin for immigrants, i.e. the first generation immigrants, for our region.
---
I would like to visit Poland, how can I buy tickets and make reservations?
Many people use websites such as www.justfares.com, www.travelocity.com, www.expedia.com or www.orbitz.com to book plane tickets and make hotel reservations.
If you need advice, your best bet is Polyways Travels, (206) 634-2995, a Seattle agency specializing in Poland and providing a very good service; they know all the connections and attractions by heart. Please look here: Business and service.
---
Whatís a cheap way of sending packages and money to Poland?
Sending packages via airmail w/ US Post Office is advised only for simple packages or with single item envelopes (a book, a CD, a medication). In particular people had mixed experiences with the Global Airmail Parcel Post. When the speed of delivery and tracking number is essential, such as when sending legal documents etc, use DHL, Fedex etc; for big cities in Poland this works as you would expect in the US Ė except for price: the service is almost as fast as they promise but very expensive; however, double check with the shipper when sending to small towns. Bigger packages can be sent much cheaper and more convenient at the receiving end by Polamer or Polonez.
Polamer, toll free number (877) 544-1844, is based in Chicago, so this requires sending packages via UPS or similar carriers to Polamer Cargo in Chicago and then they send it to Poland for you; call them to obtain their rates and shipping forms to fill. This is a bit involved but you definitely save money on the combo of sending ground to Chicago and then by sea by Polamer. They have been very reliable and deliver packages to the door in Poland (put a local phone contact on the form). Typically a sea parcel takes about 3-4 weeks to arrive. They also have a faster airmail service.
Polonez Parcel Service, tel. (413) 732-3899, no toll free number, is a similar company based in West Springfield, MA. You can send a parcel to Polonez by UPS etc. and they would ship it to Poland. However, Polonez has a local agent in Fife, WA; this is near Tacoma. (This is the same agent that used to run a store and a Polonez agency in the Commons Mall and also was in Renton a few years back.) So in lieu of sending a parcel to Polonez, you have an option of driving with a parcel to Fife to ship it from there. You can obtain the forms from the agent or by calling the company. Overall costs and delivery times are similar. However, I have heard complaints about Polonez service in Poland from local customers.
Note that when sending a book or a couple of CDs or a medication, it's typically an overkill to use a parcel services. A padded envelope sent by a regular airmail to Poland goes through well enough. You still need to fill in a custom form to go with it.
There are several options to send money to Poland. The fastest and safest way to send a big sum is a direct bank transfer or wire from a bank or brokerage account in US to a bank account in Poland. It does not matter which bank in Poland but a full bank/account number (with the international SWIFT/BIC number) is a must; also, besides the account, the target bank branch address and phone number is a frequent requirement. Fees range between $25-50 and typically do not depend on the amount; 2-3 business days can be expected to complete the transaction. For smaller sums US Money Express can be used, fees depend on the amount but they have a home delivery option. Another approach is to add a family member to an ATM card or credit card and let the family use it.
---
What are the Polish organizations in Seattle and vicinity?
The current full list is on our Polish in Seattle page. The most important organization is the Polish Home Association, established in 1918; it owns and operates the Polish Home (Polish Hall) in Seattle, the place where most of Polish cultural events in Seattle take place. The Polish Home Foundation is the most important public charity for the Polish community. You can donate to any local Polish cause through the PHF and donations are tax deductible; the Foundation does not send donations to Poland and is focused on Seattle and the Pacific NW. Another notable organization is the Seattle-Gdynia Sister City Association, producer of the Seattle Polish Film Festival. The UW Polish Studies Endowment Committee works to establish a Polish chair at the University of Washington in Seattle and organizes Polish topic lectures there on regular basis. There is also a full range of special interest organizations, such as Polish Book Club, Polish Scout Troop or Polish Soccer Club. Please see the Polish in Seattle page for full info on local orgs as well info on organizations in the state of Washington as well as in Portland, OR and Vancouver, BC.
---
I want to rent the Polish Home for an event, what's the price and availability?
The Polish Home can be rented for family events as well as meetings, celebrations etc. Both the upper and lower halls can be rented. For details and current rates, please check the Hall Rental page on the Polish Home site.
Note that for public events promoting Polish culture and language, such as lectures, concerts or exhibitions, the rental fee can be reduced or waived as per Polish Home Association policy to support the PHA mission; please contact the Polish Home officials to negotiate rates for your event.
---
Is there a Polish Consulate in Seattle?
Yes, Honorary Consul Teresa Indelak Davis resides in Seattle and the Consulate of the Republic of Poland in Seattle covers the entire State of Washington. Consul Davis can be reached at [email protected] or at 206-948-8064.
---
Can I renew my Polish passport in Seattle?
Yes! Since 2010, Polish consuls come to Seattle and Portland process applications.
If you cannot wait for the next consular visit, you have to travel to Los Angeles. See below a note about Portland though.
The consular visit to Seattle happen once or at most twice a year. Subscribe to the Polish News email bulletin to get a notification about a pending visit. Polish News also runs news about similar trips by Polish consuls to Portland. Also, the Consulate General has a consular visit page in Polish.
Requirements when applying for a passport
Please visit the site of Consulate General of Poland in Los Angeles for info about the procedure and requirements. You can find the detailed passport info here (in Polish). It typically takes about a month for a new passport to arrive from the time a passport application is filed.
Visits to Canada
You can visit Canada without a visa if you are a Polish citizen with a new biometric passport, or you are a resident alien in the USA (green card holder) or you are an American citizen with a passport. More about it on the internet pages of the Polish Consulate General in Vancouver, BC.
Please note: due to regulations related to Polish consular regions, passport applications for Washington state residents are processed by the Consulate in Los Angeles, NOT in Vancouver. Washington state is in the consular region of the Consulate General in LA.
---
I am a Polish citizen, can I vote in Polish elections in Seattle?
This may be possible depending on the elections - as the polling station may or may not be available in Seattle in a given year. Since 2007 typically there has been a polling station at the Polish Home in Seattle, or one could vote by mail. Polish News publishes election info when elections happen, see for example this note.
---
Where can I learn English as a Second Language?
Many places offer help to immigrants in learning English. Your children can get ESL classes at a local school they attend. Placement and the length of the course depends on demonstrated proficiency level. Adults can attend courses at local colleges and community colleges. For example check these ESL courses
ESL related courses at Bellevue College, Bellevue
ESL courses at City University of Seattle (Seattle & Bellevue)
ESL courses at Seattle Central Community College
Free classes!
Check this offer of free ESL classes for Bellevue residents. These classes are subsidized by the City of Bellevue, WA. Check with a college or community college in the city you reside, to see if similar offers are available to you at your city of residence. There are also classes in English that teach how to look for a job, prepare a job application and also on-the-job communication skills.
Free ESL classes at different libraries in Seattle and King County - check your local library
ESL at the Seattle Public Library - free ESL classes
ESL at the King County Library System - many libraries run free ESL classes, citizenship classes etc.
Also free classes here
ESL and English for professionals at the ELS Center in Seattle - Capitol Hill, Mon-Fri from 1 to 3 pm.
Please see this ad for details.