---
Where can I learn Polish language in Seattle?
Go to current FAQ info
---
How do I immerse my children in Polish?
Go to current FAQ info
---
How can I get / buy Polish books & movies?
Go to current FAQ info
---
I look for a Polish church and religious education for children in Polish
Go to current FAQ info
---
How can I setup & use Polish characters such as ćęś on my American computer?
Polish character support
Setting up Polish characters on any Windows computer is quite simple. Basically 1) you tell the system to use a Polish keyboard 2) make sure that it is on when you want to use it 3) use a simple convention to indicate a character with Polish diacritical.
Please see a step by step guide on how to setup Polich characters for details.
Polish speller
Go to current FAQ info
---
I donít speak Polish but I would like to get involved in Polish community, be in contact with other people interested in Polish culture...
Go to current FAQ info
---
Go to current FAQ info
---
I need a Polish translator, a lawyer, a notary ...
Go to current FAQ info
---
I am of Polish origin, how can I get birth certificates etc. from Poland?
The best chance is to use the family connection back in Poland. Trace your American data to an ancestor with known date of birth and place of birth. If you have that, the family can write to the appropriate state archives in Poland asking for birth certificates for these people or even for genealogical search on them. Depending on how far in the past it is, the documents can be in the state archives at a provincial capital (appropriate voivodship) or at the central archive in Warsaw. The state archives have official state records or copies of those, as well as records or copies of records from religious institutions like parishes etc. Also the state archives in Warsaw have many records from towns and villages that were Polish before WWII and now are in Western Ukraine or Byelorussia.
The archives nowadays actually make money on this type of genealogical queries, so other than writing appropriate specs for searching, paying upfront some modest amount and waiting, the first steps in this research should be fairly straightforward.
---
How many people of Polish ancestry live in Seattle? In the Washington State?
These numbers come from the US Census Bureau site
In 2006
about 129,000 people claimed Polish ancestry in Washington
about 42,500 people claimed Polish ancestry in King County
about 15,000 people claimed Polish ancestry in City of Seattle
People of Polish Ancestry By Percentage in Washington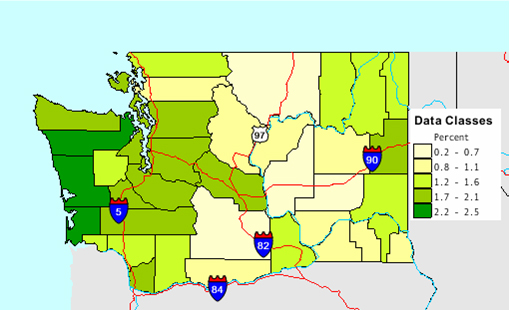 Courtesy the Piast Institute, © 2007 The Piast Institute
One unappreciated aspect about people with Polish ancestry is that they are widely dispersed throughout the state of Washington; in fact there are many small towns and rural areas settled by Polish immigrants in 19c and early 20c., now with many 4th or 5th generation Polish-Americans.
Please note that these numbers indicate the ancestry, that is old-timers. For example, according to the US Census Bureau, the number of people with Russian ancestry in the state, both in King County and in Seattle, is several times smaller than the number of people with Polish ancestry. As we know, for fresh immigrants the situation is reversed - everyday experience indicates that Russians are about 5 or 10 times more numerous than Poles. However, I could not find US Census Bureau numbers indicating the country of origin for immigrants, i.e. the first generation immigrants, for our region.
---
I would like to visit Poland, how can I buy tickets and make reservations?
Go to current FAQ info
---
Whatís a cheap way of sending packages and money to Poland?
Sending packages via airmail w/ US Post Office is advised only for simple packages or with single item envelopes (a book, a CD, a medication). In particular people had mixed experiences with the Global Airmail Parcel Post. When the speed of delivery and tracking number is essential, such as when sending legal documents etc, use DHL, Fedex etc; for big cities in Poland this works as you would expect in the US Ė except for price: the service is almost as fast as they promise but very expensive; however, double check with the shipper when sending to small towns. Bigger packages can be sent much cheaper and more convenient at the receiving end by Polamer or Polonez.
Polamer, toll free number (877) 544-1844, is based in Chicago, so this requires sending packages via UPS or similar carriers to Polamer Cargo in Chicago and then they send it to Poland for you; call them to obtain their rates and shipping forms to fill. This is a bit involved but you definitely save money on the combo of sending ground to Chicago and then by sea by Polamer. They have been very reliable and deliver packages to the door in Poland (put a local phone contact on the form). Typically a sea parcel takes about 3-4 weeks to arrive. They also have a faster airmail service.
Polonez Parcel Service, tel. (413) 732-3899, no toll free number, is a similar company based in West Springfield, MA. You can send a parcel to Polonez by UPS etc. and they would ship it to Poland. However, Polonez has a local agent in Fife, WA; this is near Tacoma. (This is the same agent that used to run a store and a Polonez agency in the Commons Mall and also was in Renton a few years back.) So in lieu of sending a parcel to Polonez, you have an option of driving with a parcel to Fife to ship it from there. You can obtain the forms from the agent or by calling the company. Overall costs and delivery times are similar. However, I have heard complaints about Polonez service in Poland from local customers.
Note that when sending a book or a couple of CDs or a medication, it's typically an overkill to use a parcel services. A padded envelope sent by a regular airmail to Poland goes through well enough. You still need to fill in a custom form to go with it.
There are several options to send money to Poland. The fastest and safest way to send a big sum is a direct bank transfer or wire from a bank or brokerage account in US to a bank account in Poland. It does not matter which bank in Poland but a full bank/account number (with the international SWIFT/BIC number) is a must; also, besides the account, the target bank branch address and phone number is a frequent requirement. Fees range between $25-50 and typically do not depend on the amount; 2-3 business days can be expected to complete the transaction. For smaller sums US Money Express can be used, fees depend on the amount but they have a home delivery option. Another approach is to add a family member to an ATM card or credit card and let the family use it.
---
What are the Polish organizations in Seattle and vicinity?
Go to current FAQ info
---
I want to rent the Polish Home for an event, what's the price and availability?
Go to PHA website
---
Is there a Polish Consulate in Seattle?
Yes, Honorary Consul Teresa Indelak Davis resides in Seattle and the Consulate of the Republic of Poland in Seattle covers the entire State of Washington. Consul Davis can be reached at [email protected] or at 206-948-8064.
---
Can I renew my Polish passport in Seattle?
Go to current FAQ info
---
I am a Polish citizen, can I vote in Polish elections in Seattle?
This may be possible depending on the elections - as the polling station may or may not be available in Seattle in a given year. Since 2007 typically there has been a polling station at the Polish Home in Seattle, or one could vote by mail. Polish News publishes election info when elections happen, see for example this note.
---
Where can I learn English as a Second Language?
Go to current FAQ info