THE RAPE OF EUROPA
A documentary film on the theft and rescue of Europe's art treasures
in World War Two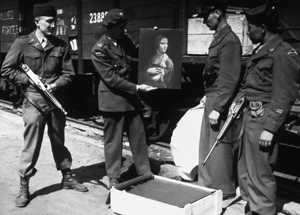 Polish art historian Karol Estreicher with MFAA officer Lt. Frank P. Albright and two American GIs as they prepare to return Leonardo da Vinci's Lady with an Ermine to the Czartoryski Museum in Krakow, Poland, from which it had been stolen by the Nazis. Photo Source: Lynn Nicholas
The film airs on PBS on November 24, 2008.
Click here for other screenings around the country.

The Rape of Europa is a two-hour documentary based on the award-winning history by Lynn H. Nicholas. It tells the epic story of the systematic theft and deliberate destruction – as well as the heroic rescue – of Europe's art treasures during the Third Reich and the Second World War. The Rape of Europa interweaves the twelve-year history of Nazi art looting with the dramatic story of the unprecedented efforts of the U.S. and British "Monuments Men", curators and art historians who were sent into the theater of war to rescue and return displaced art. Ordinary heroes, from truck drivers to department store clerks, also fought back in a miraculous effort to safeguard the millions of lost, hidden and stolen treasures.
The Rape of Europa takes the audience on a journey through seven countries, into the violent whirlwind of fanaticism, greed and warfare that threatened to wipe out the artistic heritage of Europe. Considerable emphasis is given to the threatened art treasures of Poland and the amazing work undertaken by Polish citizens to protect what they could of their cultural heritage. And sadly, the film also records the tremendous toll that the war exacted on Polish art and monuments.
While filming in Poland, the team cooperated with the Royal Castle in Warsaw, the St. Mary's Church and the Czartoryski Museum in Krakow, with Adam Zamoyski at the Sienawa Estate, and with Monika Kuhnke of the Ministry of Foreign Affairs' office for the restitution of cultural goods. The film also features rare historical footage from the Czolowka Film Studio
Courtesy New York Jewish Film Festival